he new machine in the
concrete mixing plant
needs to be carefully checked in seven parts.
With the development of civil engineering in China, various new types of
concrete mixing plants
are being bought by people, but many customers are not sure how to operate the
concrete mixing plant
properly.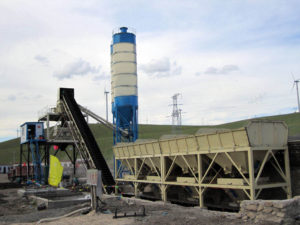 Check and prepare before commissioning.
(1) check whether the lubricating grease of each part is sufficient and good, and it is necessary to observe that there is grease overflow in the four shaft end sealing plates in the mixing drum.
(2) check the installation of each part, whether the connection bolts are fastened and the connection of the chain is reliable.
(3) check whether the configured pneumatic system is normal and the discharging door is closed.
(4) check if there is any foreign body in the mixing tank, and then tighten the liner, blade and stirring arm bolts to prevent falling off.
(5) check whether the electrical system is normal.
(6) check whether the system of water supply, aggregate and powder is normal.
(7) the clearance between the plate and mixing console blade is not more than 5 mm, more than when the clearance to adjust, the normal production conditions, the host plate use need to be replaced after 37000 times, 25000 times of blade, the control room grounding resistance 4 o.
In addition, in the initial operation of the new machine, there will always be the problem of card material, it is suggested that the force should not be used, and it can be operated according to the instructions or the manufacturer's guidance.