[b]concrete
  Trailer pump [/b]is trailer concrete pump which is used to pumping concrete in some distance or height to the construction site. As the pumping concrete has big aggregate much bigger than cement, thus, the pumping can be limited by the aggregate size. Only qualified
trailer concrete pump
can pumping the concrete smoother with less blocking. To help more friends know the relation ship between trailer pump concrete and the aggregate size, we summarize two main aspects in this relationship.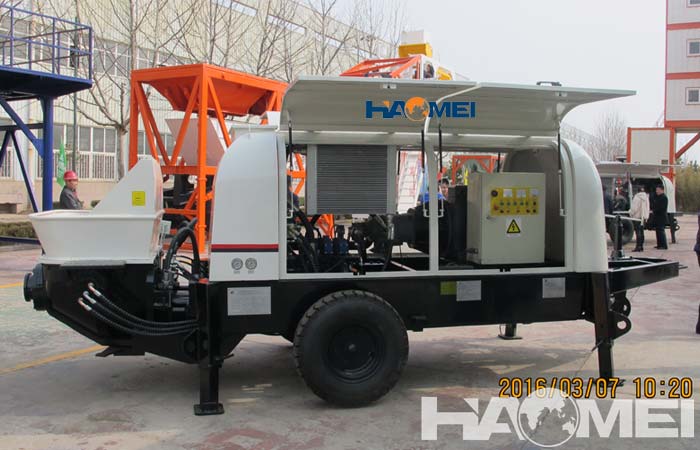 The relationship between the maximum aggregate size and the transport height should be:
When the pumping height is below 50m, the ratio of aggregate and pipe size should not be greater than 1:3 for gravel, and not greater than 1:2.5 for gravel;
When the pumping height is 50-100m, it should be in the range of 1:3 to 1:4;
When the pumping height is more than 100m, it should be between 1:4 and 1:5, and the content of the needle-shaped aggregates should not be more than 10%.
The relationship between the maximum size of the coarse aggregate and the diameter of the transfer pipe should be:
The maximum aggregate size of the
trailer pump concrete
is limited by the minimum diameter of the conveying pipeline. The maximum diameter of the pebble should be less than 1/3; the maximum size of the crushed stone should be less than 1/4, allowing a small amount of super diameter aggregate to be mixed in. For example, in a 125 mm diameter delivery pipe, a small amount of aggregates up to 60 mm diameter may be passed, but the proportion of such super-diameter aggregates must not exceed 2%, and they must be dispersed.
haomei Is a professional production of Trailer concrete pump manufacturers, will provide you with quality products and perfect service. Mainly engaged in
Trailer Concrete Pump
,concrete mixers, concrete mixing plant and concrete boom pump and other . HAOMEI S-valve serial high-pressure Trailer Concrete Pump, Z-gate-valve serial medium-pressure Trailer Concrete Pump and D-butterfly-valve serial low-pressure Trailer Concrete Pump are concrete transport equipments widely applied to such building projects as urban construction, bridge, power, and energy sources, etc.
The Trailer Concrete Pump adopt such world advanced techniques as open hydraulic loop, distribution valve auto-compensating clearance, constant power control, total hydraulic automatic change, and electric proportional control, etc., carried out deep and meticulous studies and experiments in many aspects like concrete piston self-lubricating, etc., and has won many patents.
HAOMEI Trailer Concrete Pump is a new product at international level which is developed by combining latest technologies both at home and abroad. HAOMEI Trailer Concrete Pump contains three series and more than twenty product types, and HAOMEI is the professional producing base with most complete models and specifications in CHINA, which can fully meet various needs of all customers.
HAOMEI Trailer Concrete Pump all adopts steamline production assembly while the company strictly controls all the machining processes and assembly quality and gives final test to every
Trailer Concrete Pump
by simulation working conditions and overload experiments to ensure customers' zero fault in the first operation.