Best selling great quality JZC500
Concrete Mixer
For this machine, it has an order to  reduce the labor intensity, and  this type of mixer is light weight and has two wheels below which make for moving conveniently.
From the perspective of size, this type of mini concrete mixer is ideal for small to medium projects. For being equipped with double- conic reversing drum transited by gear rim, JZC concrete mixer is also known as gear type concrete mixer,Small Concrete Mixer. The paint cover protects the machine from splashing wet and getting rusty.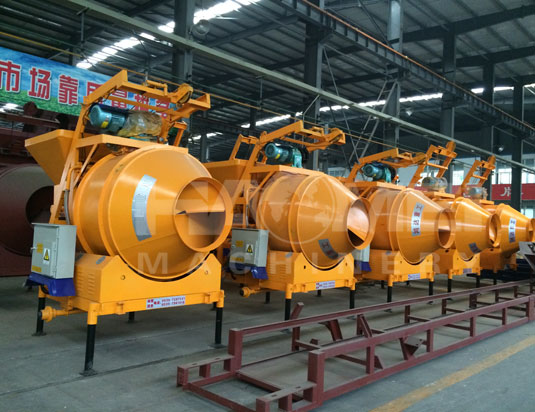 Technical parameters 
Specification
Value
Discharging Volume(L)
500
Charging Volume(L)
800
Mixer Capacity(m3)
0.5
Lubrication System(Brand)
Choosed
Reducer(Brand)
Choosed
Aggregate Size(mm)
60/80
Aggregate Category(Quantity)
4
Working Circle(S)
72
Mixer Motor Power(KW)
11
Mixing Speed(r/min)
15.7
Weight(KG)
3100
Dimensions(mm)
5226x2200x5460
Contact Information
Haomei Machinery Equipment Co.,ltd
Add : No.14 Shangwu Outer Ring Rd, New District, Zhengzhou, China.
E-mail : info@hmconcreteplant.com
Tel: +86-371-65621392
Fax:+86-371-86616825
Website: 
http://www.haomei.biz