This concrete mixer has characteristics of simple structure, high mixing quality, high efficiency, energy-saving, low noise, simple operation, and can be used together with dump car, truck and concrete mixer truck, so it's the ideal machine for construction sites, large and medium-sized concrete factories. and it has these following character: 
1.This concrete mixer uses high-chromium and high-molybdenum scale boards and stirring pieces, with a long service time.
2. Shaft seal is applied with patented air pressure seal, which can effectively prevent the leakage of mortars.
3. Auto-lubrication system ensures the mixing system can operate continually for a long time.
4. As a miniature double-horizontal-shaft forced type concrete mixer, this concrete mixing machine features short mixing time, good homogeneity and reliable operation.
5. Shaft tip is sealed by floating-ring, which is reliable and easy to maintain and replace.
Main picture of China manafacturer JS4000 concrete mixer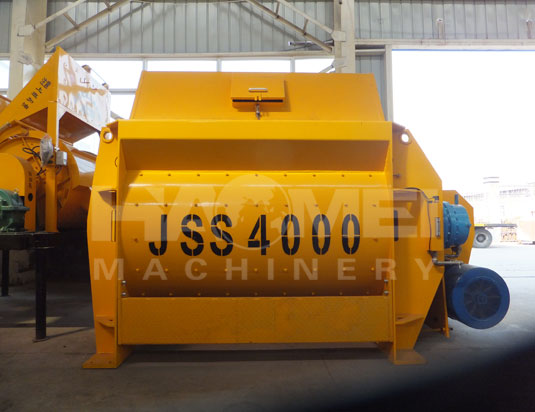 Technical parameters of Best selling
concrete mixer
Specification
Value
Discharging Volume(L)
4000
Charging Volume(L)
6400
Mixer Capacity(m3)
4.0
Lubrication System(Brand)
Choosed
Reducer(Brand)
Choosed
Aggregate Size(mm)
60/80
Aggregate Category(Quantity)
4
Working Circle(S)
60
Mixer Motor Power(KW)
2x75
Mixing Speed(r/min)
31.5
Mixing Blade(Quantity)
2x9
Lifting Motor Power(KW)
28
Pump Motor Power(KW)
3
Weight(KG)
13000
Dimensions(mm)
43970x2850x2140
This machine has these other names:
concrete mixing machine
, cement mixer, cement mixing machine, concrete mixing equipment, concrete mixer machine price, cement mixer machine, concrete mixer for sale, concrete mixer price, small capacity concrete mixer. 
Here are some websites about concrete machine's problems and solutions which can help us to solve the simple problems. 
the main important procedures of JS
concrete mixing machine
Contact Information
Haomei Machinery Equipment Co.,ltd
Add : No.14 Shangwu Outer Ring Rd, New District, Zhengzhou, China.
E-mail : info@hmconcreteplant.com
Tel: +86-371-65621392
Fax:+86-371-86616825
Website: 
http://www.haomei.biz