Asphalt drum mix plant
is a complete set of equipment for heating and mixing the asphalt and different particle size aggregates together. It is widely used in high-grade highways, urban roads, airports, docks, parking lots and other engineering construction. Asphalt and aggregates are heated at a certain temperature inside the drying drum according to the design mix ratio to from the qualified asphalt mixture used in asphalt pavement construction. Therefore, asphalt plant is the first key equipment for asphalt pavement construction, and its performance directly affects the quality of asphalt pavement.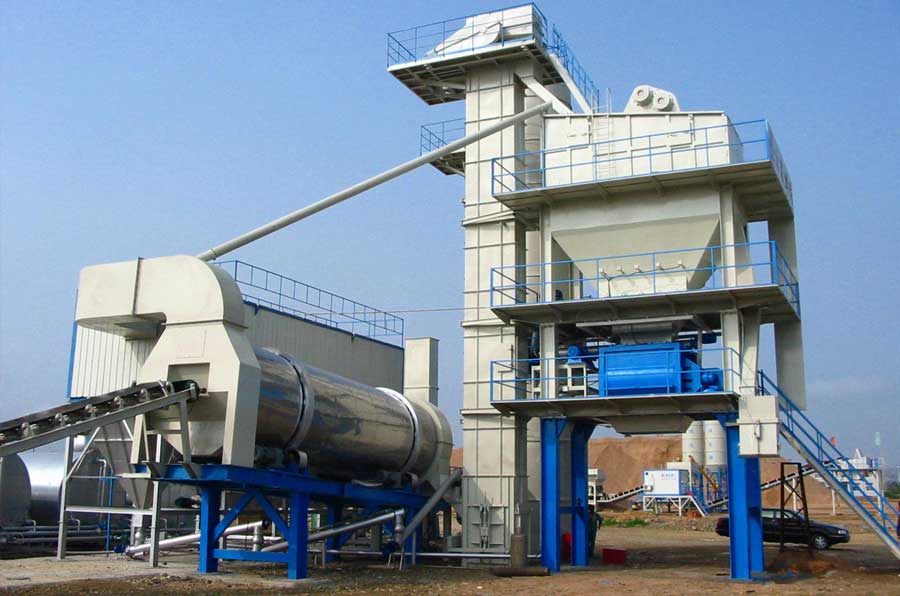 Aggregates are separately loaded into the three storage silos of the batching machine by wheel loader. After a simple ratio, the aggregate is fed into the intermediate filter screen, and the unqualified aggregates whose particle size are larger than 40mm is screened out. The standard aggregates is fed by the feeding belt. They are transported into the drying drum, and the mineral material is fully heated and dried in the drying drum by the combustion system, and at the same time, aggregates and mineral powder are mixed together with the asphalt in the drying drum to form a uniform, hot asphalt mixture.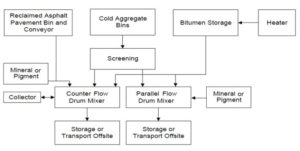 Work flow of asphalt drum mix plant
Main components of
asphalt batch plant
Control system



The control room is safe and reliable, the appearance is beautiful, and its transportation is convenient; the electric control adopts the desktop operation console, which can realize interlocking and single machine operation; the operation console is equipped with manual control operation device and the operation is convenient and intuitive.
Raw material supply system



According to the engineering demand, the system can divide the aggregate into four different sizes, divide the large particles into medium-sized particles, and finally send the qualified materials to the drying drum through the conveyor belt.
Mixing drum



The mixing drum combines drying, heating and mixing together. The aggregates form an incomplete curtain in the drying zone and is preheated and moved forward; the aggregates curtain is completely formed in the heating zone and heated rapidly; the asphalt is sprayed in the mixing zone and uniformly mixed with the aggregate.

Coal combustion system



The coal that has passed through the high-efficiency coal crusher is processed into coal powder of less than 5 mm particle size, which further accelerates the supply speed of suitable coal powder. The burner uses oil supply and blower to provide enough heat for the mixing system.
Asphalt supply system



Asphalt weighing tanks are provided with insulation layer, tank body, spray pump and conveying pipeline. The heat-conducting oil is used for heat preservation (the straight-heated asphalt tank is mixed with the cylinder, and there is no heat-conducting oil)

Adopt two-stage anti-overflow protection device

High-pressure shower asphalt spray patented structure, spraying efficiently and evenly

Secondary measurement of asphalt, real-time dynamic tracking, precise and stable oil-stone ratio