To make an
asphalt batch mix plant
working normally, we have much of work to do, preparation before starting the machine is need, while the correct way of starting the machine is also very important. It is the premise of producing qualified asphalt for pavement construction. Well, if you want to save time and improve the process efficiency, there are 7 aspects we should pay attention to when begin to operate the machine.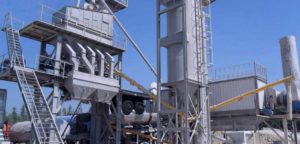 Asphalt Mixing Plant
1, Before the power supply is connected, we should check if the position of each switch is correctly, and the order of power supply in each part should also be paid attention to.
2. When the computer is started, it should be paid attention to whether it is normal, so as to take the corresponding measures if there is something wrong.
3. According to the ratio of asphalt mixture needed of the project, set up the parameters in the computer correctly.
4, Start the air compressor, after the rated pressure is reached, operated the valves manually several times to ensure normal work, especially for the finished silo door, the residue in the tank must be exhausted clean.
5, Before starting the rest of the equipment, it is necessary to inform the relevant personnel of entire equipment to make them ready for working.
6, According to the circuit interlocking relation of the equipment, start the motor in all parts in a sequential way. During the startup, the operator should observe whether the operation of the equipment is normal, if there is any abnormality, notify the control room immediately and take corresponding measures.
7, Idle equipment for about 10 minutes, after the normal working is checked, notice all personnel began production.
Haomei is a leading professional manufacturer of
asphalt mixing plant
with 20 years' experience, more than 2000 sets of
asphalt plants
distributed in global market, Haomei continues to serve the sector successfully with its more than 50 different models of
asphalt mixing plant
and concrete batching plant and 2 different models of trailer type concrete pumps in more than 95 different countries.